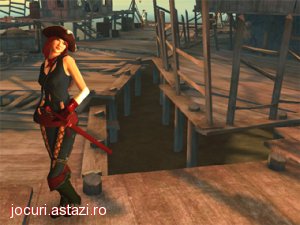 Sony Online Entertainment si Flying Lab Software a anuntat astazi ca Pirates of the Burning Sea este programat pentru lansarea in intreaga lume pe 22 ianuarie 2008. Jocul de actiune online este distribuit de Sony Online Entertainment. In joc esti capitanul piratilor si iti poti alege nationalitatea: franceza, spaniola, engleza. Luptele intre vapoare au loc pe mare, poti char distruge vasul inamicului. Poti insa sa ramai la mal si sa participi la lupte cu sabia. Iti poti chiar personaliza vaporul, pana la cele mai mici detalii.
Pre-comenzile vor incepe marti, 23 octombrie. Jucatorii care vor pre-comanda Pirates of the Burning Sea vor avea acces la joc cu 15 zile mai devreme decat lansarea oficiala. In acest timp, jucatorii pot ajunge pana la level 20 entru a-si pastra personajul si dupa lansare. Jucatorii care comanda anticiat vor primi si un cd cu soundtrack-ul jocului. Pentru mai multe informatii accesati
www.piratesoftheburningsea.com.

_________________
Orice prost poarta diploma,nu-i purta stima...In cel mai fericit caz e prost cu Diploma.